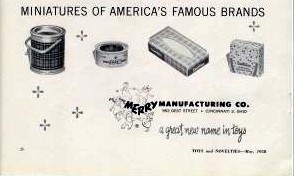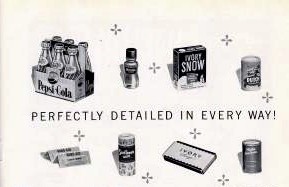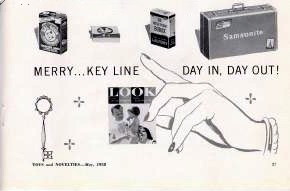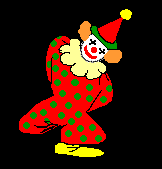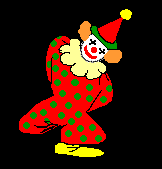 Welcome to Ginny's My Merry Land!
(Please scroll across my coffee table to see...)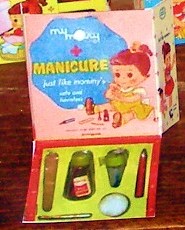 ...a printed collection
of mini repro My Merry vintage toy memories!
There are over 50 darling stand-up graphics
that are Ginny's favorites and mine!
The little paper closets and kits
are sized perfectly for Ginny to play with.
Ginger,Muffie,Alexander Wendy,
Riley, Betsy McCall and Barbie size dolls
will love them too!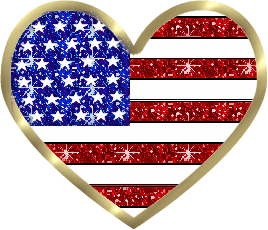 These sweet store and closet fronts
will add so much to your vintage furniture scenes
or love them all set up together as " Merry Land ".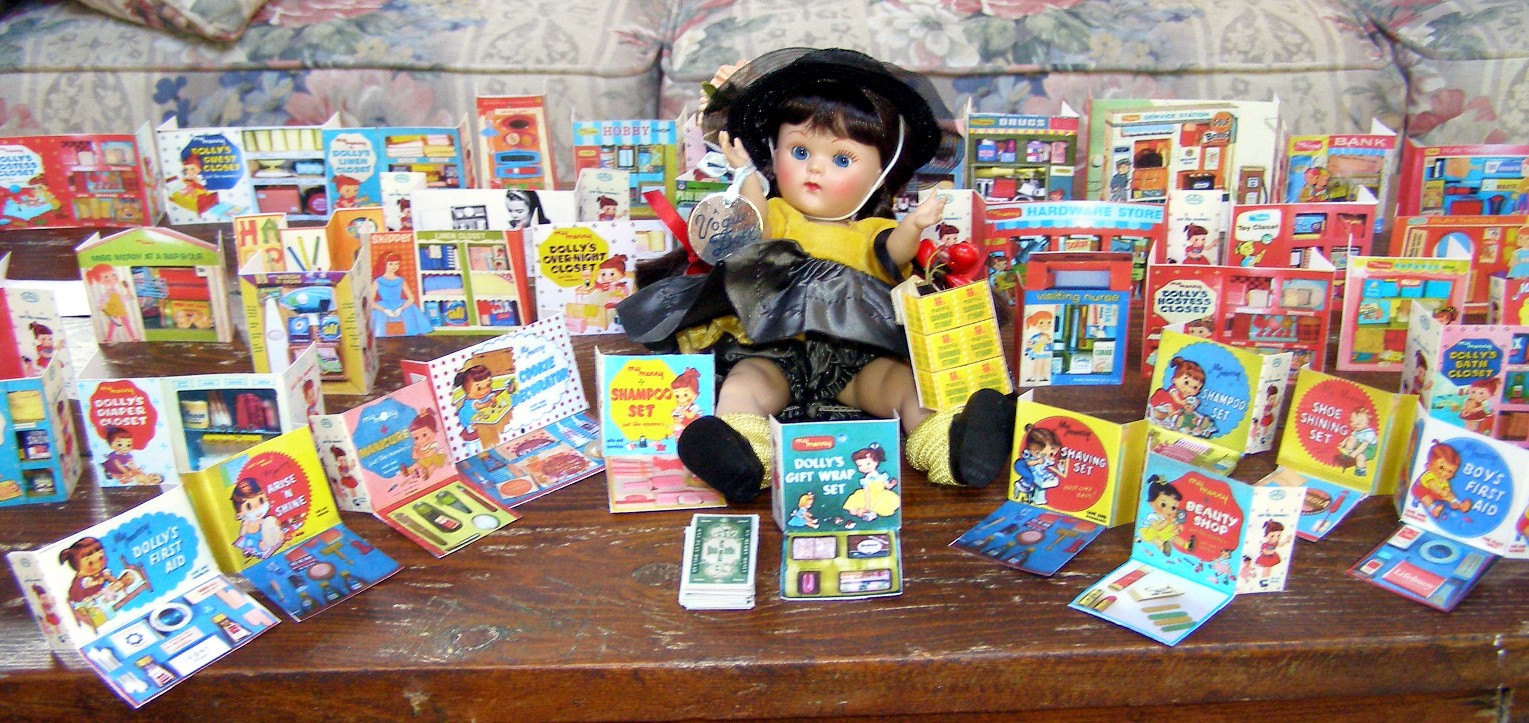 Above is my new mint repro classic Vogue Ginny

wearing a vintage 1954 Corsage series outfit
from Sue Perry's childhood collection.
Note Ginny balances an open copy of the original
Merry Toys Savings Stamp Book.
The yellow squares are the little Merry Stamps
printed in a single graphic..
Ginny has many Merry dollars just in case
she finds another closet to "buy" for her dolls!
I printed these closets using cardboard stock.
The sides fold creating little upright tab supports.
The colors and graphics are realistic and look vibrant.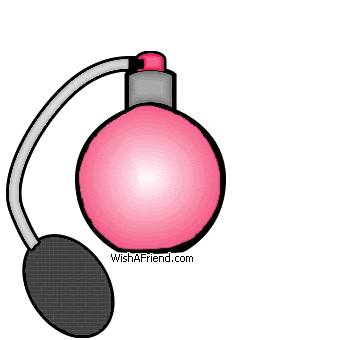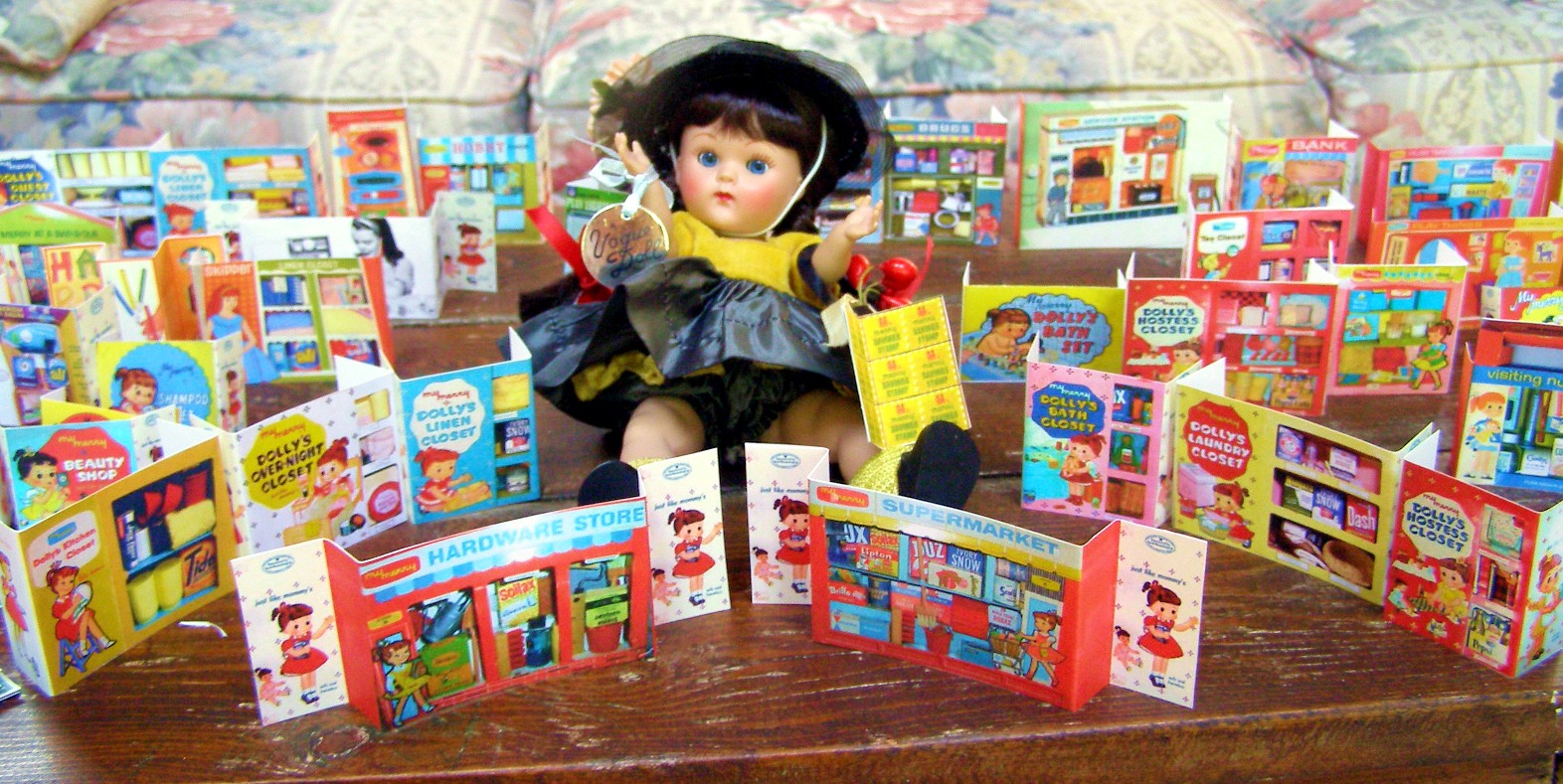 Here Ginny shows off her Supermarket, Hardware Store,
Kitchen Closet, Over Night Closet, Dolly's Linen Closet,
Bath Closet ,Laundry Closet, and Hostess Closet!
I did some closets so that they appear open with contents,
Others appear closed.

I am a lover of graphics as you can see and
creating Merry Land was a lengthy, but very exciting project!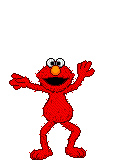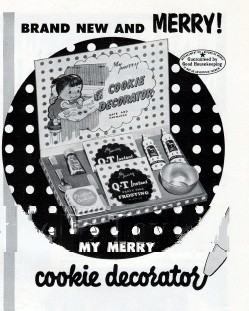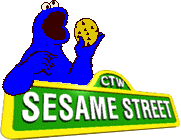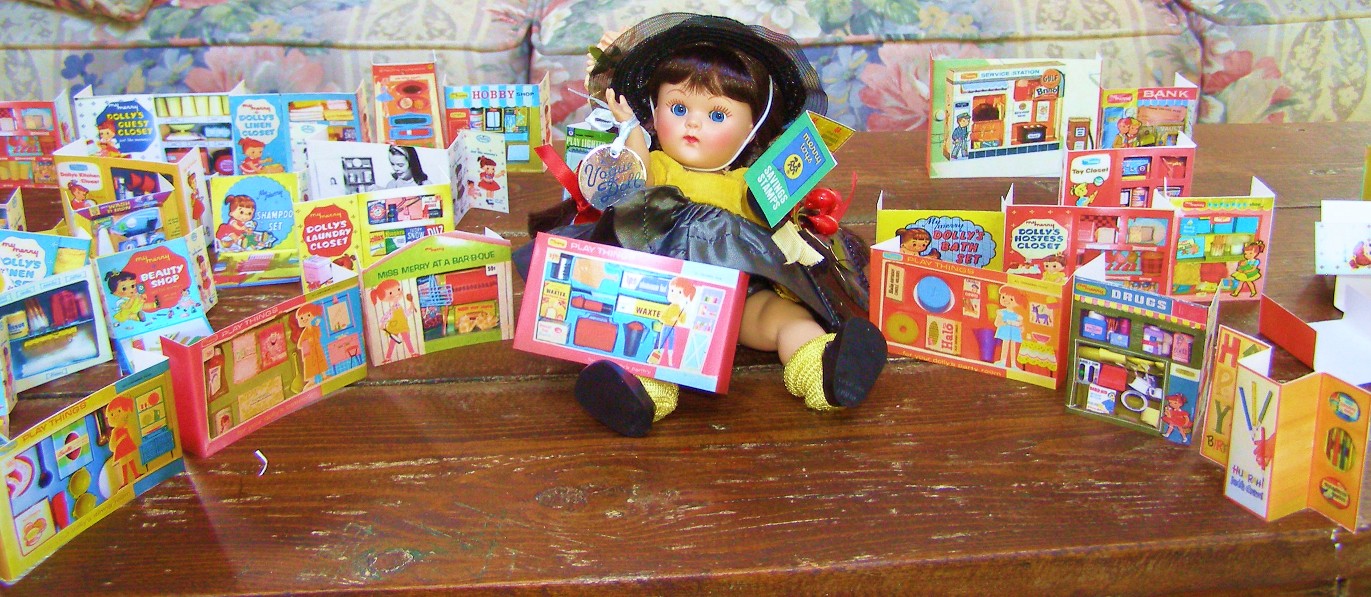 Scroll across to see close-ups of mini My Merry Playthings Closets, Drugstore, and Birthday Card.
I have not offered any mini prints since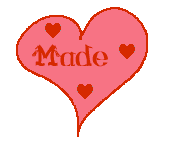 I did the mouseketeer records

and hats a while back.
I decided it was time to finish this My Merry project
and offer these mini closet repros for sale
to help fund this web site.
All My Merry graphics are printed on
10 pages of card stock to be cut

and folded at the ends
and in some cases, the very center of the graphic.
The process is straight line cutting.
I will include a copy of my original
My Merry Savings Stamp Book
with cover and inside stamps graphic.
This stamp book reminds me of those store give-away
green stamp books
put out by S&H and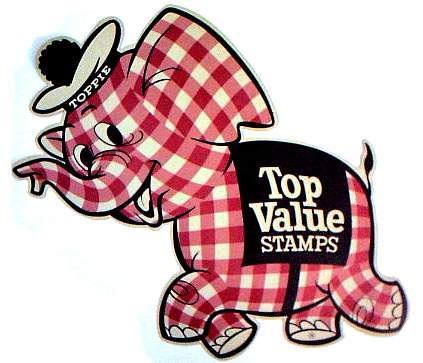 Top Value way back when.
Remember?
I will also include some My Merry dollars
for your Ginny to spend.
These Merry dollars are in addition to the 50 graphics.
The tabs on the little stores and closets
can fold forward or back as you like.
This is a cute project to do with a child
who might like these paper decorations
added in a doll scene.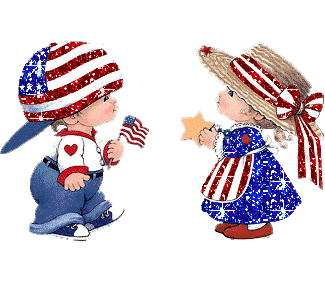 The closets also look cute on a display shelf.

The price is $23.50 postage paid
(for the complete 10 page set)
shipped in a first class yellow envelope.
I accept pay pal, checks,and money orders.
Please email with your order before sending payment
I have additional printables for sale as well!
They are listed below!

Mini vintage Little Women Cards 1
Party Doll Cards 2
and my favorites,
mini Fairfield Story characters 3
Please add 50 cents extra postage
for each of the smaller card sets
you may add to this order.

Click the Coke below
to see more vintage greeting card minis
TO ORDER:
Please Title the email: Printables
Thank you Carolyn@ cataumet.net
---
---
MORE FOR SALE :ALL BANDS, BOWS , PRINTABLES
INDEX
Bands for re-stringing arms and body bands,
Ginny Bows, Ginny glasses, cowgirl arm cuffs, and
Muffie chair on these pages: 1 2 3 4 5
Printables :
My Merry Hat Sets: 1
Ginny Loves Little Golden books! 35 +Hat sets: 1
Ginny Loves Nurse Nancy Kit 1
Hat combinations to browse of Dan and Nancy: 1
Ginny Loves Doc Dan : 1
Ginny's MM Club Hat Kit #1: 1 2
Ginny's 1st Secret set: 1
Ginny's pink party hats: 1
For Sale: Skinny Pointy MM Hats : 1
For Sale: MY MERRY LAND: 1
For Sale Little Women mini cards: 1
For Sale Party Doll mini cards: 1
For Sale Fairfield mini cards: 1
My Merry "Merry Land" printed minis
for Ginny, Ginger, Muffie!