Doc Dan hats coordinate well with Nancy hats
and each hat comes with a mini book.
Dan hats are sold separately without a chin strap.
Chin straps are sold separately if you need one!
You can pair exact color hat styles or mix and match.
Below are just a few pairings you can do with Dan hats.
This page is just for browsing possible
combinations you can make.
*To order you will need to go to the next page 1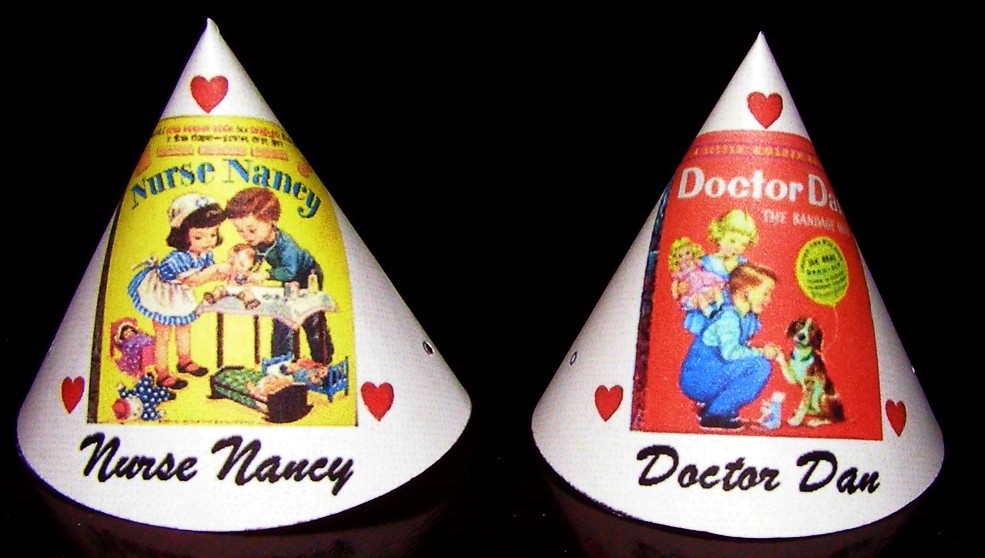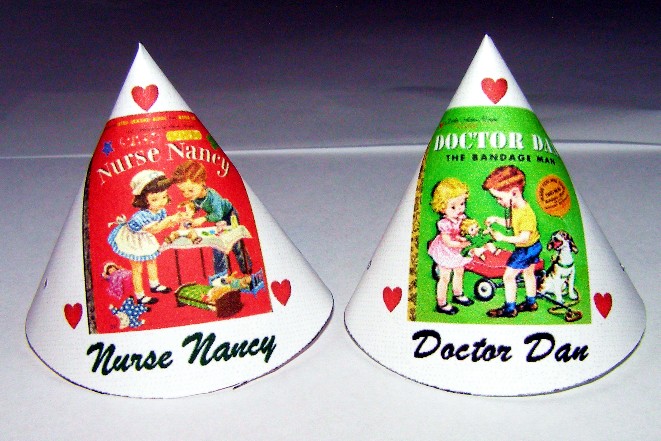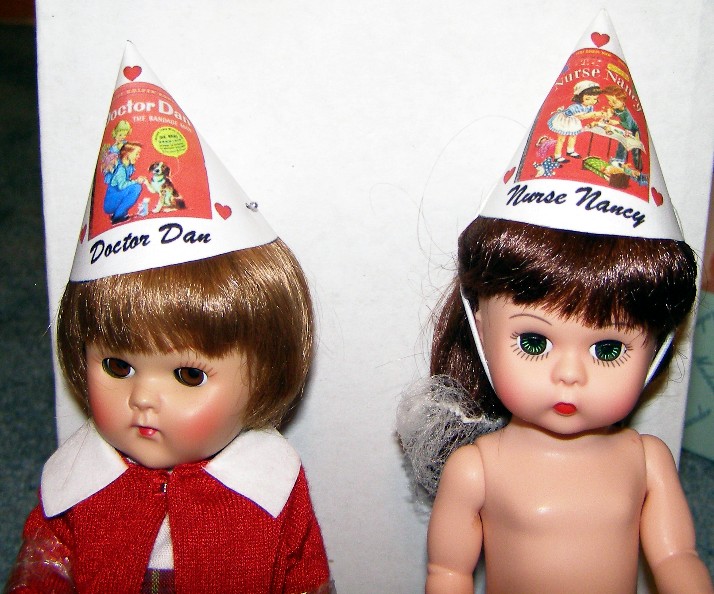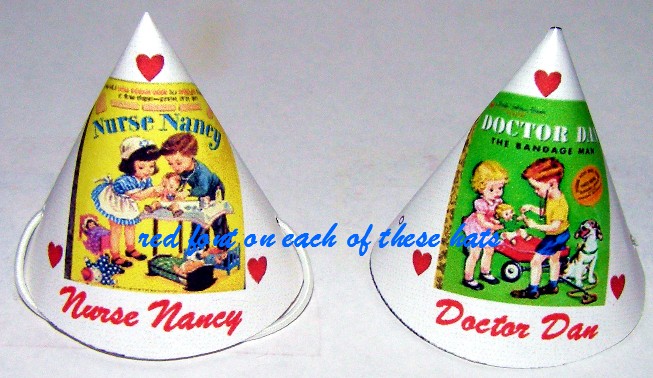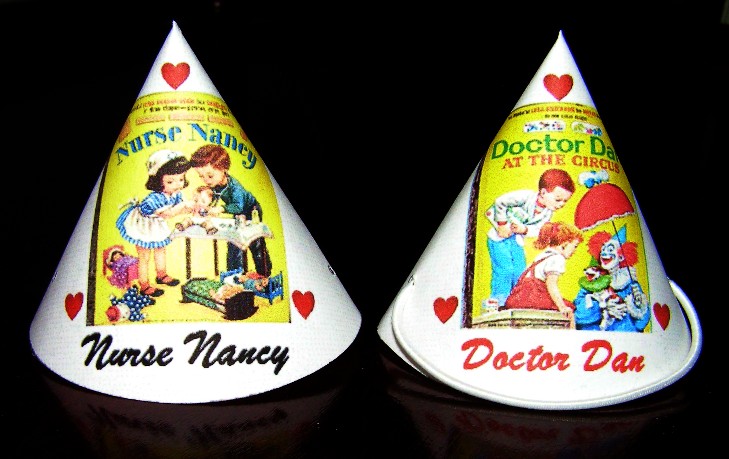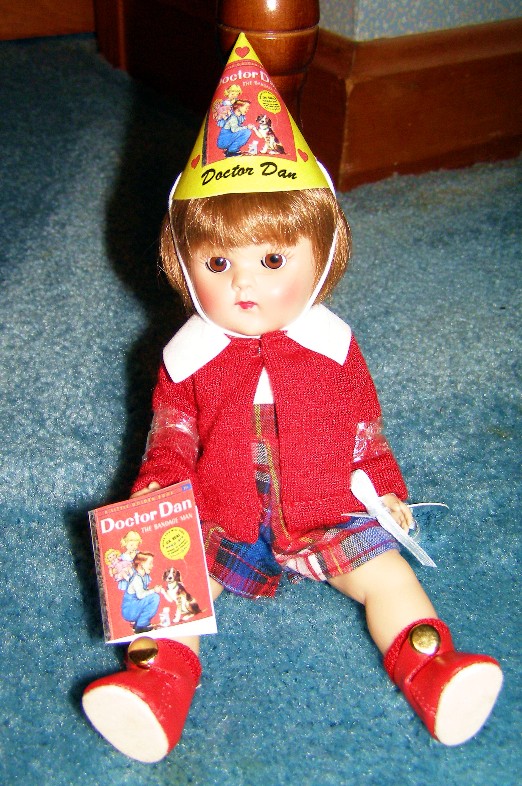 Early Dan book above also can pair with red Nancy Below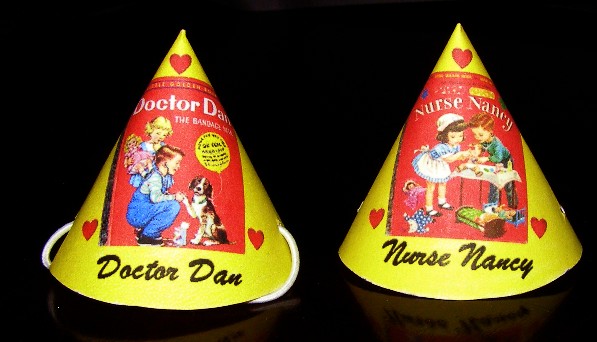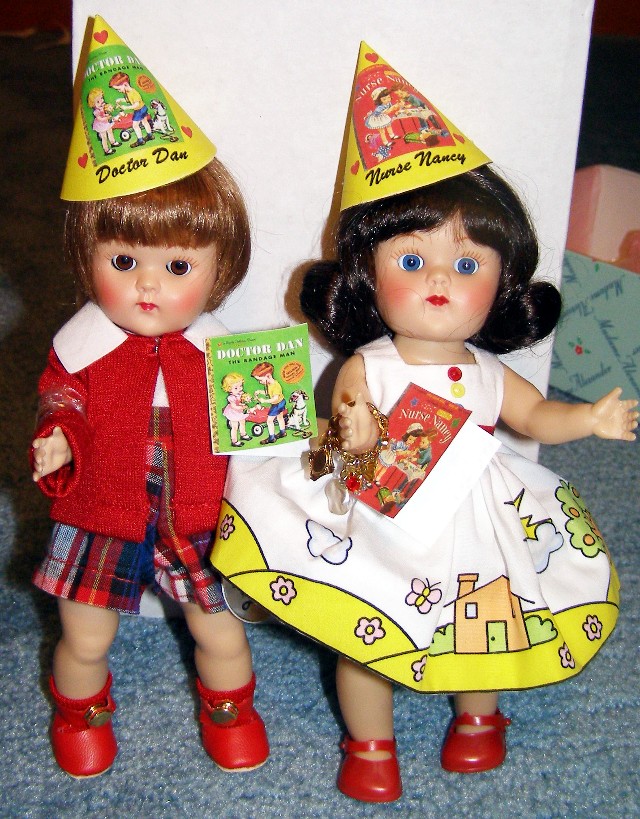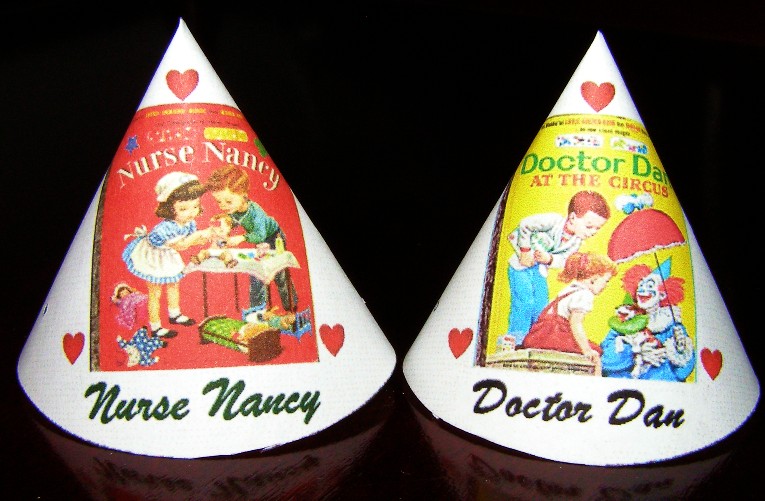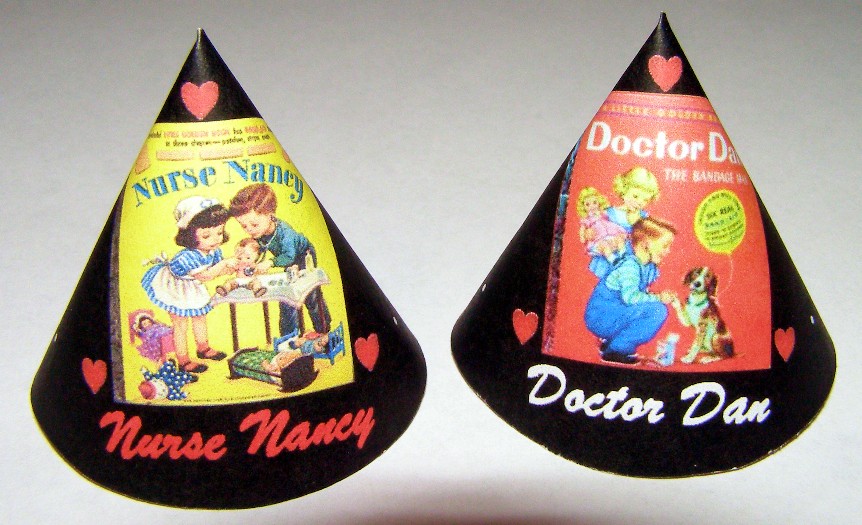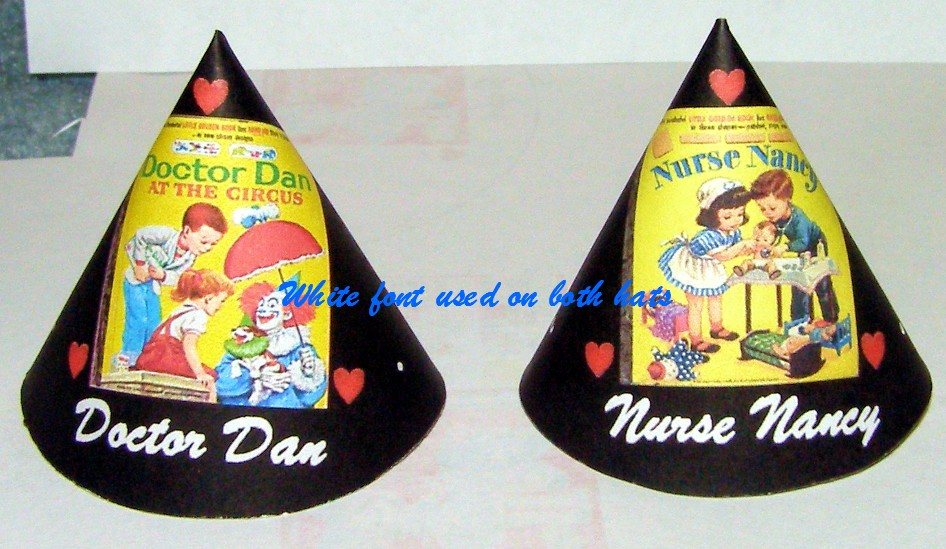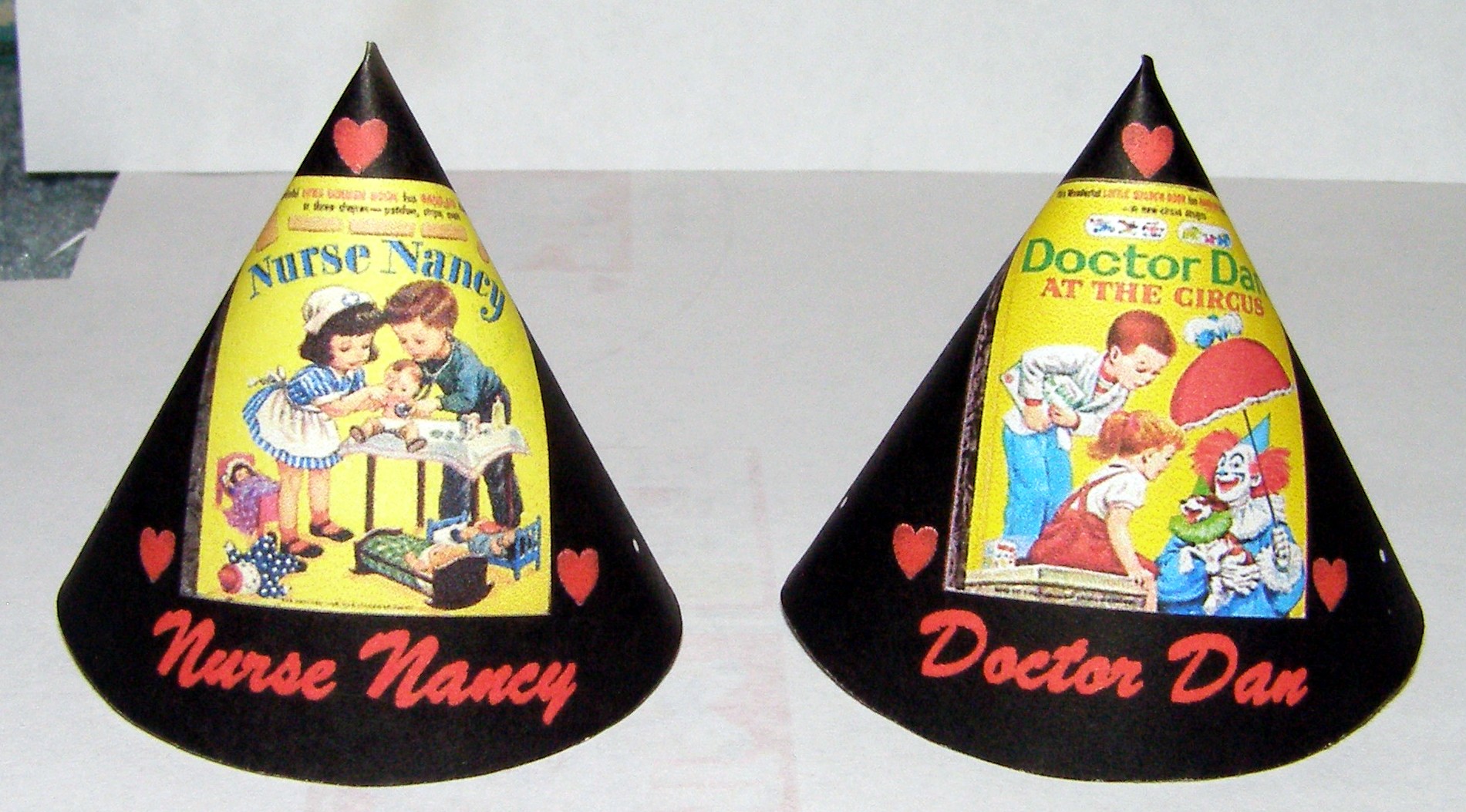 Think Halloween with a variety of black hats!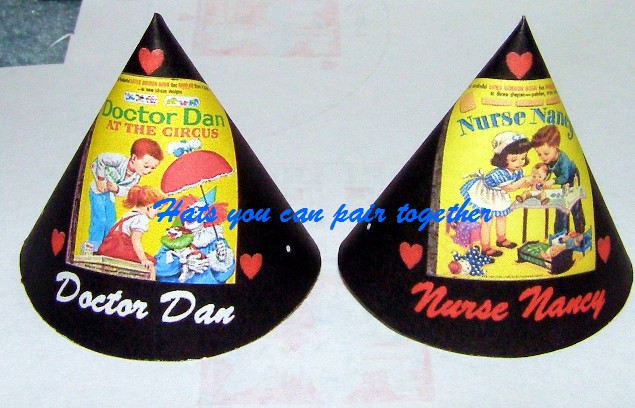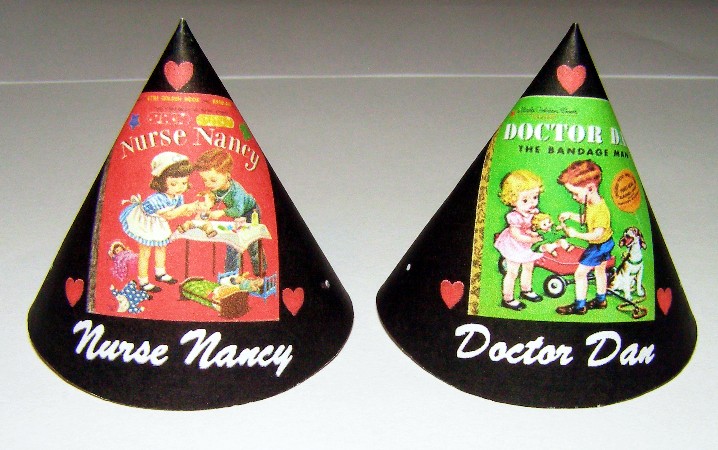 To order Doc Dan Sets please go to the next link! 1
To order Doc Dan Sets
please click the next link 1
Go back to Nancy matching sets 1
MINI INDEX TO ALL ITEMS FOR SALE
IN SECTIONS DIRECTLY BELOW:
Bands for re-stringing arms,
Ginny head to torso bands, Ginny Bows,
Ginny glasses,
cowgirl arm cuffs, and
Muffie chair on these pages: 1 2 3 4
*ALL Mini Printable Sets/Kits:
My Merry Hat Sets: 1
Ginny Loves Little Golden books! 35 +Hat sets: 1
Ginny Loves Nurse Nancy Kit 1
Hat combinations to browse of Dan and Nancy: 1
Ginny Loves Doc Dan: 1
Ginny's MM Club Hat Kit #1: 1 2
Ginny's 1st Secret set: 1
Ginny's pink party hats: 1
For Sale: Skinny Pointy MM Hats : 1
For Sale: MY MERRY LAND: 1
For Sale Little Women mini cards: 1
For Sale Party Doll mini cards: 1
For Sale Fairfield mini cards 1
Full Site Index
Ginny MLW: Page 1 2 3 4 5 6 7 8 9 10 11 12 13 14 15 16 17 18 19
Muffie and Ginger: Page 1 2 3 4 5 6 7 8 9 10 11 12 13 14 15 16 17 18 19 20 21 22 23 24 25 26 27 28 29 30 31 32 33 34 35
Ginny BKW Walker: Page 1 2 3 4 5 6 7 8
Ginny Strung : Page 1 2 3 4 5 6 7 8 9 10 11 12 13 14 15 16 17 18 19
FOR SALE: Re-stringing bands for Ginny arms , head to torso bands, Ginny Bows, Ginny glasses, cowgirl arm cuffs, Muffie chair on these pages: 1 2 3 4

FOR SALE: (ALL PAPER PRINTABLE SETS/KITS):

My Merry Hat Sets: 1

Ginny Loves Little Golden books! 35 +Hat sets: 1

Ginny Loves Nurse Nancy Kit 1

Hat combinations to browse of Dan and Nancy: 1

Ginny Loves Doc Dan 1

Ginny's MM Club Hat Kit #1: 1 2

Ginny's 1st Secret set: 1

Ginny's pink party hats: 1

For Sale: Skinny Pointy MM Hats : 1

For Sale: My Merry mini Graphics: 1

For Sale Little Women mini cards: 1

For Sale Party Doll mini cards: 1

For Sale Fairfield mini cards: 1

I Buy Ginnys
My Family
Doll House: Page 1 2 3 4 5 6 7 8 9 10 11 12 13 14 15 16 17 18 19 20 21 22 23 24 25 26 27

More Doll House II: 1 2 3 4 5 6 7

More Doll House III : 1 2 3 4 5 6 7 8 9

Doll Links
Ginny PLW: Page 1 2 3 4 5 6 7 8 9 10 11 12 13 14 15 16 17
Ginny Types 1 2 3 4 5 6 7 8 9 10 11 12 13 14 15
Magic 50's Memories

White Xmas Bing Crosby Painted Lash walker Pg 12: 1

Ginny's Christmas Doll house/dollhouse Pg 16: 1

Transitional Strung Ginny Xmas Sparky: 1

Xmas 2003: 1

Xmas 2004: 1

Xmas 2005 : 1

Xmas 2006: 1

Valentine's Day 2005: 1

Valentine's Day 2006: 1

Valentine's Day 2007: 1

Valentine's Day 2008: 1

Happy New Year 2007: 1

American bandstand, Elvis, Ginny, Sparky 1

Easter 2006 Strung '54 Cheryl: 1

Painted Eye Ginnys: 1

My Watko article Published Pages: 1 2

HALLOWEEN 2007: 1

Dunkin Donuts visit 1